Home » Chartres Events Calendars
Chartres Events Calendars

Chartres annual festival and event guide book is actually available in Chartres tourist office, the lobby of your hotel or bed and breakfast – it's free!
It as a small tourist guide book that you could bring everywhere, consists of accommodation and restaurant lists, places to visit and so fort in five languages - french, german, italian, spanish and portuguese.
How about occasional events? Some of occasional Chartres events might not be listed on this tourist guide book. Not to mention some specific events from museums or theater, a national or international sport events and some kids attractions. They usually printed on separated book guide, flyers, presented on billboard or simply by word of mouth.
Can you imagine that at the end of your journeys in Chartres, you will have a bunch of flyer collections as souvenirs?

For the sake of simplicity, I gather the major agenda of festivals and events from several sources in events calendars, so you could easily find interesting information about events or festivals you wish to see on the day you come in Chartres, just in one place.
Quick link to monthly Events Calendars 2013/2014
Long period events and exhibitions in Chartres - 2014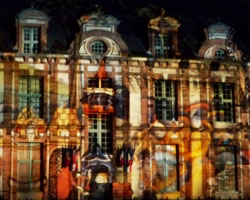 Chartres en Lumière - stunning illuminations through out the city, that is why Chartres is also known as the Capital of Light!
This year, the illuminations will last longer from on April 12 through October 12 after the dusk until 1am. Festival of Light will be held, as usual,  in September.

Les Empreintes de La Mémoire
Monographic  exhibition of Dominique Martinet
When: December 7, 2013 to October 10, 2014
Where: Musée des Beaux-Arts
Detail opening hours refers to the museum's:
Wednesday and Saturday: 10am - 12pm and 2pm - 6pm
Sunday: 2pm - 6pm
Close on Jan 1, May 1 and 8 and Dec 25.

Retours d'Afrique
Mosaic exhibition, inspired by the African art, by Jean-Marie Burton
When: March 1 - June 8
Where: Chapelle Saint-Eman
Opening hours:
- Tuesday to Sunday from 2pm - 6pm
- Closed on Monday

Zamora's Painting
Painting exhibition of Eduardo Zamora, Mexican artist
When: March 15 - May 4
Where: Prieuré Saint-Vincent, 12 rue de la Porte Cendreuse
Opening hours:
- Tuesday to Sunday from 2pm - 6.30pm
- Closed on Monday
Le Vitrail Français Contemporain 2000 - 2015
When: April 12 - December 12
Where: Centre International du Vitrail, 5 rue du Cardinal Pie
Opening hours:
- Monday to Friday from 9.30am - 12.30pm and 1.30pm - 6pm
- Saturday from 10am - 12.30pm and 2.30pm - 6pm
- Sunday and holiday from 2.30am - 6pm
Admission fee: 5.50€

Some occasional events often announced just sort time before the D-day. I might post new events at the last moment so keep following my updates!