Chartres Facts
How well do you know about Chartres? Chartres Facts page gives you more to know and discover about the city.
The Region and The People

Chartres is the capital of communes of Eure-et-Loir in the region of Centre. Eure-et-Loir is also known as the largest cereal agricultural region in France.
Chartres is located about 88 km from south west of Paris. It need only approximately one hour travel on land from the capital. That is why Chartres becomes the most favorite day trip or weekend break destination from Paris.
View
Chartres - Paris Map
in a larger map

Chartres area covers 16.85 km2 (6.51 sq mi) with 41.588 populations, according to the latest census.
Chartres Métropole gathers 7 communities which are Chartres city itself and 6 others city which border around Chartres – Lucé, Mainvilliers, Luisant, Lèves, Champhol and Le Coudray. The global populations of these communities is about 90.000 in total.
Department code number:
28 - This refers to region Eure-et-Loir and it appears on every police number of cars belong to the residents of the region.
It also refers to the code postal heading of each city for example: code postal of Chartres will be 28000, Lucé 28110 and so fort.

Emergency calls:

Police : 17

Fire brigades (Pompier) : 18

Emergency medical service (SAMU) : 15

Fun Things about Chartres Facts

The Chartres residents have their own designation - Chartrain (man) and Chartraine (woman).
The city sleeps at 8 pm, yet it always awake until over midnight for tourist activities.
Chartres is categorized as 4 flowers in the flower city (villes et villages fleuris) list in France. A special garden service agent takes charge of the gardening and beautifully decorate. The plants and flowers are well arranged at almost every corner in town and shifted according to the season for example tulips dominate the decoration in the beginning of spring.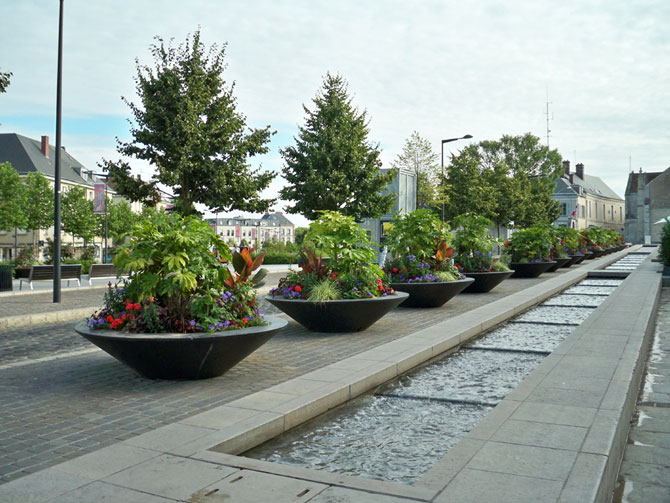 Espalanade de la Resistance
Chartres is the the capital of perfume. Do you know that the famous Guerlain, Nina Ricci or Paco Rabbane were produced here ?
Chartres Light Show is the most popular event in the city, that's why Chartres also known as the capital of light.
La Poste building (now L'Apostrophe) was registered as a historical monument in August 1994.
The underground parking area of Place des Halles in Chartres had been conceived as an anti-nuclear shelter.
One on the vastest amphitheater of Gallo-Romain in France had been discovered in Chartres in 1965.
The famous People

King Henry IV was the only French king who had been crowned at the Cathedral of Chartres on 27 February 1594.
The former England Prime Minister, John Major, has visited Chartres in 1994 in the occasion of the 8th Franco-Britannique summit.
Laurent Cassegrain, the inventor of telescope « Cassegrain » in the end of 18th century was born in Chartres.
Catherine Maunoury, the double world champion of aerobatic female pilot in 1988 and 2000 is a Chartraine.
Pierre-Jules Hetzel, one of the most important publisher in France during the 19th century, is a Chartrain. He published the famous Jules Verne and also other like Victor Hugo, Georges Sand and Erckmann-Chatrian.
Arlette Chabot and Cécile Marie Anne Moharic are famous French TV journalist and TV presenter who were born in Chartres.
Julien Escudé, was born in Chartres, is a French national footballer and actually playing for Sevilla FC (Spain) as a defender. He is holding number 14 as his squad number.
Nicolas Escudé, as you can guess from his name, he is the brother of Julien Escudé. He was a professional French tennis man, playing in simple as well as double. His best moment was when France won the Davis Cup in 2001 - he beat Roger Federer in the quarter finale. He was selected as the France Fed Cup captain in 2008.
Loic Duval is a French racing driver, was born in Chartres. He begun his carrier in karting when finally moved to car-racing in 2002. He is the champion of the Formula Nippon 2010 with his team Dandelion (Honda).
Allison Pineau is a center-back handball player of French National Team and Metz HB. With the national team, she won two silver medals in World Women's Handball Championship in 2009 and 2011. Her personal best are the best player of 2009 (voted by IHF) and the best center-back in World Championship 2011.
Bruno Bianchi, famous French animator, is co-creator of Inspector Gadget. He worked also on MASK, Heatcliff (Les Entrechats), Jayce and the Wheeled Warriors (Jayce et les Conquérants de la Lumière), Iznogoud and some others. He was born in Chartres in 1955 - died of a cancer on December 2, 2011.
More about Chartres Facts