Chartres Events January 2014

Starting the year under rain, heavy clouds and windy... everything looks grey! So where is the colors?! With this kind of weather, I would rather stay at home than strolling in the city... well... just to avoid the flu!

Let's find the colors of life inside Chartres Events January package... who knows, you will find something you love!
Contemporary Germany Stained Glass Windows Exhibition
When: until March 23, 2014
Where: International Stained Glass Center, 5 rue du Cardinal Pie
Call: +33(0)2 37 21 65 72

Details schedules are as follows:
Monday - Friday from 9.30am - 12.30pm and 1.30pm - 6pm
Saturday from 10am - 12.30pm and 2.30pm - 6pm
Sunday and holiday from 2.30pm - 6pm


Salon des Loisirs Créatifs
When: January 17 from 2pm - 7pm, January 18 and 19 from 10am - 7pm
Where: Chartrexpo - Chichster room
Ticket: 5€, free for under 12
Events at Mediatheque de Chartres
Cooking Class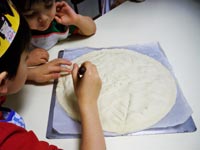 Where: Maison du Saumon, 8 rue de la Poissonnerie

For reservation call : +33(0)2 37 18 26 23/24 or by email: resa@otchartres.fr
January 4 at 2.30pm : Galette des Rois à la crème d'amande - cost: 21.90 €/person
January 26 at 2.30pm: Cooking class for kids (8 - 14 years old) - Fondant chocolat, pate à tartiner aux noissettes, cost: 15€/children
Theater, Music and Dance Shows
Theatre de Chartres, Boulevard Chasles, +33 (0) 237 23 42 79
January 7:

The Roots,

Hip-Hop, Compagnie Accrorap/CCN De La Rochelle
January 11: Princes et Princesses, shadow theater, at Chartrexpo (Salle Ravenne), at 2.30pm and 7.30pm, for children from 5 years old
January 14: Le Cid, theater, Compagnie Sandrine Anglade. 
January 19: Alice, cirque-poème, at 4.30pm for children from 6 years old
January 24: Le Dîner de Cons, theater, Francis Veber.
All shows (unless otherwise specified) start from 8.30pm, ticket price for adult: 23€, under 25: 15€, children: 9€
Theatre Portail Sud, 8 cloître Notre Dame, +33 (0) 237 36 33 06
January 10 - 25: Un Mariage Follement Gai!, comedy, Thierry Djim, ticket: 15€.
Friday at 7 and 9pm, Thursday and Saturday at 9pm

Theater du Seuil - rue St. Julien, +33 (0) 237 36 89 30
January 17 and 18: En Allant Vers Les Récits de La Kolyma, theater, Compagnie de l'Argile
January 25: Loic Lantoine, music concert
January 31: La Demoiselle Inconnue, music
All shows start at 8.30pm, ticket price: 14€.
La Nocturne de Chartres 2014
When: January 25, 2014 at 7pm, depart at 8pm
Where: Place des Halles
Admission: 3€, free for children
Contact: 0237346974, 0611617810, aspttchartresrando28@gmail.com
17th edition of Nocturne de Chartres - trekking with 6 options of circuits from 7 to 20 km. Approximately 500 participants attended the last year event, hopefully a double numbers will be achieved this year.