Home » Chartres Attractions
Chartres Attractions & Activities
I kept wondering what kind of Chartres attractions and activities I can do to enjoy my days... but that was in my early days in the city. But still I will not argue that Chartres is a small city, some people even say it's a village, and this can make you think that there is nothing you can do more in the city.

Now I discover that there are plenty of things to do in Chartres if you plan to stay here more than a day trip. And if some people think that the only reason to come to Chartres is the cathedral, they could be wrong...

Some of Chartres attractions are occasional - the light show, music and theater shows, festivals, river cruising...
However you can do swimming, sightseeing, visiting museums and historic places or a bike tour all year, depend on the weather conditions.

So I think you have no choice but to check out Chartres events calendar to know what things to do or see on the day you are in Chartres.
Here are my best choice of things to do in Chartres: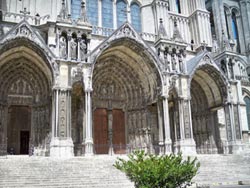 The #1 tourist destination in Chartres - listed in UNESCO Heritage Site since 1979.
Visit and discover the hidden gems of the cathedral like the crypt, the windows even a thrilling adventure to the north tower.

Maison Picassiette is an unusual house - a sample of naive art. Raymond Isidore built his house and covered almost every corner of it with million pieces of crockery.
The house has classified as a historic site in 1983.

Sightseeing to The Old City

Visit the old city of Chartres situated along the Eure river - vielle ville.
Discover the old bridges, old houses and old churches with guide on the white tourist train OR do a self guide tour.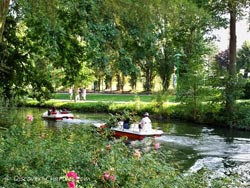 River cruising along the Eure river on spring and summer by pedalo boat, canoe or kayak - accessible from Parc des Bords de l'Eure, which is also known as La Petite Venise.

A new tourist destination in Chartres - mural painting on the facades of four apartments with the typical theme of the region: the cathedral, the capital of perfume, La Beauce an Eure river bank.

The largest aquatic and ice rank complex in France - named L'Odyssée. Not only offers swimming activities but also several activities like indoor scuba diving, ice skating, aqua gym and fitness. Also available on site restaurant and a beauty center.

Chartres Bike Tour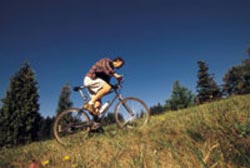 Visit Chartres on bike is possible!
Self bike tour in solo, in family or group or Chartres bike tour with French Mystique Tours.
A Look Back: International Sport Events 2012 in Chartres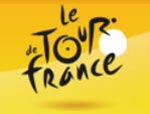 Tour de France 2012
Chartres hosts a prestigious stage in Tour de France 2012 - the Individual Time Trial, just before the final stage to Champs-Elysées.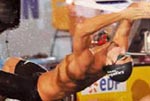 European Swimming Championship 2012

After two times hosting the national swimming competition in the last 2 years, L'Odyssée hosted the European Swimming Championship in November 2012.