Chartres Events April 2014
Here come the spring... Tulips are beautifully decorate almost on each corner of the street and parks in Chartres, and cherry blossoms too! André Gagnon Park is my favorite place in spring, it is where I can take pictures of colorful tulips and magnolias.
Spring starts earlier this year in most part of Europe... or winter has never arrived ?! Flowers and fruits of the season come before time! The good news was I don't have to bother to buy a new winter coat ;)
We have warm weather longer than usual... isn't that lovely?

Another thing last longer in Chartres... the light show will last until October! So are you ready to discover what things to do in Chartres Events April 2014 list?
Spring flowers at Andre Gagnon Park
Cooking Class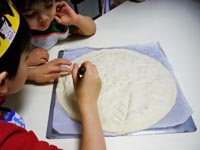 Where: Maison du Saumon, 8 rue de la Poissonnerie
Reservation :
Call : +33(0)2 37 18 26 23/24 or
Email: resa@otchartres.fr

All classes start from 2.30pm
April 5 : Cooking class for adults - Financier, caramel beurre salé, cost: 23.90€/person.
April 30 : Cooking class for kids (8 - 14 years old) - Petite Financier, cost: 17€/child, 18€/adult (parents)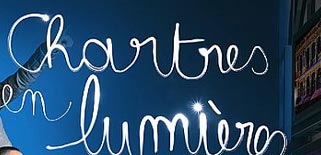 When: April 12 to October 12
Where: 23 new illuminations on monuments in Chartres
Here we go... my very best pick for Chartres Events April 2014! Chartres Light Show 2014 will kick off on April 12 and projected on the facades of 23 monuments and historic places in the city.
Be there in front of your favorite places after the dusk until 01 am and enjoy the stunning lights attraction.
If you prefer, you could enjoy the lights by riding the little train - le petit chart'train - depart from cathedral (no reservation needed for individual). However, in my opinion, the best way to get the best night photography result is a walking tour!
La Paulée des Vins de Loire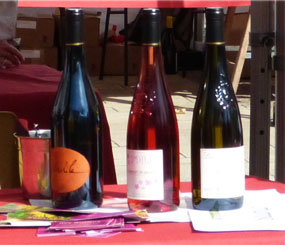 When: April 27
Where: Place Billards

La Paulée des Vins de Loire (Late Harvest Wine of Loire) is an occasion to discover wine of Loire particularly highlights the young winemakers and wine tasting of the previous harvest. For all wine lovers - enjoy the event... it's free!
Sports
French Swimming Championship (long course)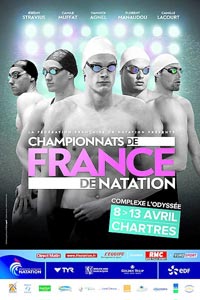 When: April 8 - 13
Where: L'Odyssée
Call: +33(0)2 37 25 33 33
Entry ticket: from 10€
After two times national and one time European short course, now Chartres present long course swimming championship.

This event presents 500 future French swimmer champions including the international like Yannick Agnel who is training today in US. An important phase to determine the qualification to the European Championship in Berlin.

Is Chartres heading for the next European events? Let's wait and see!

Trail Urbain Nocturne - 2nd Edition
When: April 19
Where: Depart from Chartres cathedral
Call: +33(0)237 34 93 73


Second edition of Trail Urbain Nocturne programs are:
Family Orienteering
Depart: 8.30pm, arrival: 9.15pm, admission:1€
Trail 7km/14km
Depart: 9.30pm, admission: 8€/12€
Each 1€ of each participants will be donated to Les Enfant de La Lune Association.

Horse Racing
When: April 20 at 3.30pm
Where: Hippodrome de Chartres, 12 rue Jean Monnet
Call: +33(0)237 34 93 73
Entry ticket: 5€
Hippodrome de Chartres is the most important one in the Centre Region. The annual racing starts on March until end of the year. Kids can also have fun with some attractions like mini racing and bouncy castle.
Theater, Music and Dance Shows
Theatre de Chartres, Boulevard Chasles, +33 (0) 237 23 42 79
March 1 - April 5 : Une Heure Avant La Morte de Mon Frère, theater, ticket for adult: 23€, under 25: 15€, children: 9€.
April 8: The West Lines +3 - jazz, ticket for adult: 12€, under 25: 7€, children: 5€.
April 9: Blues Everywhere I Go,

Barbara Hendricks

- music, ticket for adult: 32€, under 25: 23€, children: 15€.
April 15: Francis Poulenc (CRD de Chartres) - classical music, ticket price for adult: 12€, under 25: 7€, children: 5 €.
All theater and music shows start from 8.30pm
Theatre du Seuil, Rue Saint Julien, +33 (0)237 36 89 30
April 11 and 12 at 08.30pm : Ben Ricours, french music

Theatre Portail Sud, 8 cloître Notre-Dame, +33 (0)237 36 33 06
Le Journal d'Un Fou, Nicolas Gogol - April 4, 5, 10, 11 at 9pm, April 12 at 5pm,  admissions: 15€.
Qui etes Vous Fritz Haber?, Claude Cohen, April 17 and 18 at 9pm, April 19 at 5pm and 9pm, admissions: 15€
Augustin, Pirate des Iles, show for children, April 22 - 24 at 10.30am and 2.30pm, admissions: 7€