Chartres Events August 2014

We are in the second period of summer vacation! Yep, a real summer this year! We experienced a heat wave (almost 38°C) since the beginning of the season, contrast to last year where we had many rain and windy, average temperature is around 23°C in daytime.
But hey... the weather should not be a reason of giving up your vacation! Let's move on to Chartres Events August this year and find out things to do ideas in Chartres.
Chartres en Lumière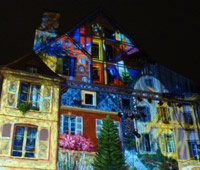 When: April 12 to October 12 
Where: Chartres city center

Chartres en Lumière - the city will be nothing without the light! That is why Chartres is also known as the Capital of Light!
What's NEW in 2014 ! : the light show will last longer from on April 12 through October 12, which means two week extra time! New animations onto 23 museums and historic sites, you should not miss this!
The show starts right after the dusk (around 10pm) until 1am. You can enjoy it in many ways; by riding the white little train (le petit chart'train) - depart from cathedral (no reservation needed for individual), by bicycle or walk! The last one is perfect for getting the best night photography.
International Organ Festival - 40th edition
When: Every Sunday from June 29 - August 24 at 4.30pm
Where: Chartres cathedral
August 3 : Musique Klezmer (Rose Bacot) - France
August 10 : Hallé Youth Choir - Great Britain
August 17 : Musica Sacra - France
August 24 : Ensemble Fulbert de Chartres - France
Soirées Estivales de Chartres 2014
Highlight of Chartres Events August: 21th Edition of Summer Evening Festival, starts showing from 9pm.
August 1 - Place Marceau, Gadjo Combo, jazz

August 2 - Cathedral South Portal, Blues Brothers, Blues/Rock
August 4 - Place des Halles, Keltas, Ireland music

August 5 - Place Billard,

7 Alex

, French songs

August 6 - Place Billard, Le Dalai et Moi, theater show

August 7 - Cathedral, El Orfreon Valdeorres, choir concert

August 8 - Place Marceau, Malyka Johany

, French pop



August 9 - Cathedral South Portal,

Syrano

, rap

August 11 - Place St. Michel, Bachibousouk, reggae/swing/zouk

August 12 - Place des Halles, The Hoop'45, rock'n roll

August 13 - Place Billard, Gaston, entertainment for children

August 14 - St. Aignan church

,

 Catherine Barret

, pipe organ
August 16 - Cathedral South Portal, Noir Houblon, Ireland music
August 18 - Place de la Poissonnerie, Barzingault, French songs
August 19 - Place des Halles, Lili Kochkine, pop/rock

August 20 - Place Billard, Topick

, one man show



August 21 - St. Aignan church, Françoise Dorner, pipe organ

August 22 - Place Marceau, Accordzeam, music
August 23 - 

Cathedral South Portal

, Rod Taylor, reggae
August 25 - Place St. Pierre, Treize A La Douzaine, French songs

August 26 - 

Cathedral North Portal, Esposito Lambert, duo guitars

August 27 - Place Billard, La Petite Famille, kids entertainment

August 28 - St. Aignan church, L. Bouis, pipe organ and voice

August 29 - Place Marceau, Les Fils Canouche, jazz

August 30 - 

Cathedral South Portal, Olivet Jazz Band, jazz
Flea Market
When: August 24
Where: Place des Epars and Boulevard Chasles

La Saint-Fiacre
When: August 30 - all day
Where: Rue de la Porte Guillaume
A merchant contest which bring us to the medieval age tradition. Contestants, who are mostly local merchants, sell their products and or show their know how skills and dressing like people in the middle age. 
Chartres Events August at Mediatheque de Chartres
June 26 to September 6 - Exhibition: Le Chuchotement de Muses: Images-Poèmes by Leslie Xuereb

August 20, 3.30pm -  film projection: Chicken Run (of Peter Lord and Nick Park, 2000)
August 30, 3.30pm -  film projection: Les Plages d'Agnès (of Agnès Varda, 2008)
Please be sure to check out and confirm Chartres Events August 2014 by yourself before heading out to avoid any disappointment due to schedule changes or cancellation!