Chartres Events December 2014
The winter comes before time this year...by the time I'm writing this post (at the end of November), my thermometer shows near 0°C outdoor! It is said, in a local newspaper, that municipal departmental has preparing all the necessary to welcome the first snow!

The Christmas light in Chartres city has already on...giving a little warm in the air! Let's make it warmer even more by unpacking the Chartres Events December list.

Marché de Noël
When: December 17 - 24
Where: Place des Epars

If you are looking for Christmas gift ideas, then Marché de Noël (Christmas Market) is the right place.

Entertainments like ice sculpture, fanfares highlight the Christmas 2014 celebration in Chartres, not to mention workshops and entertainments for children and family. Read detail programs on Christmas in Chartres.

Cooking Class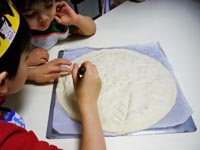 December 6 at 2.30pm - Bûche de No

ë

l, cost: 23,90€/person
December 17 at 2.30pm: Cooking class for kids (8 - 14 years old) - Petit roulé façon Bûche, cost: 17€/children, 18€/attendant

For reservation call : +33(0)2 37 18 26 23/24 or by email: resa@otchartres.fr

Entertainments at L'Odyssée
December 6 - Soirée Mousse, from 8pm to midnight
December 24 - Photo Shooting with Santa and Ody (a free winter hat at entry)
Shows at the Theaters
Theatre de Chartres, Boulevard Chasles, +33 (0) 237 23 42 79
December 6 at 8.30pm - Le Bourgeon, theater, Georges Feydeau, adult: 25€, under 12: 10€.
December 9 at 8.30pm - jazz concert, Liz Mc Comb, adult: 25€, under 12: 10€, children: 30€
December 16 at 8.30pm- Ubu Roi, theater, Compagnie des Dramaticules, adult: 25€, under 12:10€
December 18 at 8.30pm - Un Grand Moment de Solitude, theater, De et avec Josiane Balasko, adult: 37€, under 12: 15€.
Theater du Seuil - rue St. Julien, +33 (0) 237 36 89 30
December 5 and 6 at 8.30pm, Je Te Tuerai Un Jeudi,

music,

 Askehoug, admission: 15€
Theatre Portail Sud, 8 cloître Notre Dame, +33 (0) 237 36 33 06
La Belle-mère (saison 2), Isabelle Parsy, ticket: 15€
December 10, 11, 12, 13, 17, 18, 19 and 20 at 8pm
December 13, 14, 20 and 21 at 5pm