Chartres Calendar - November Events 2011
Are you in Chartres during this autumn 2011? Explore November Events to know what you can have fun with.
Although Chartres is getting colder this month, the surrounding landscape gives beautiful autumn colors that will keep my camera warm.
Talking a walk and capturing those red, orange and golden colors of autumn with my camera always gives me a great pleasure.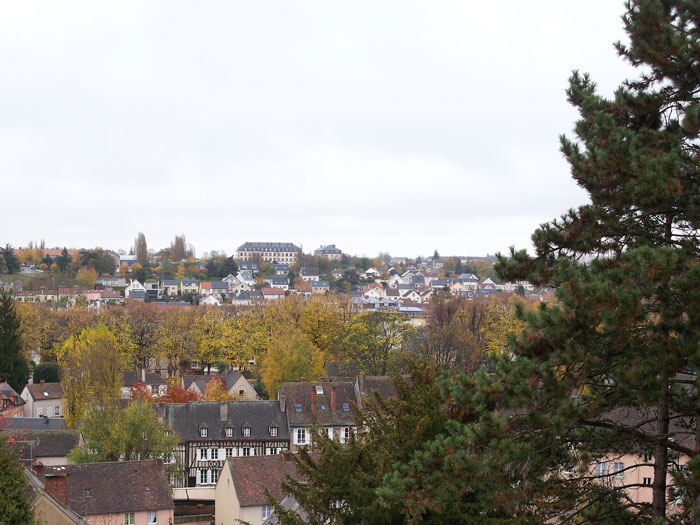 The old city in autumn - view from Bishop Palace Garden
Places like Bishops Palace garden and Andre Gagnon Park are always my favorite places to find those autumn leaves.
Now what else you can do in Chartres during autumn, what are the popular events?
Some of this month events are the continuation of previous events such as stained glass exhibitions at International Stained Glass Center. You could also do shopping on annual Saint Andre Fair or at the autumn flea market.
This month events are dominated by numbers of events at the theaters but still many more things to do.
Check them all here on this November Events 2011 list.
November Events 2011
at Centre International du Vitrail
Stained Glass Exhibition of Kim en Joong
When: January 1 to December 31
Cost: 4€

Presents stained glasses creations of Kim en Joong, an international artist from Korea.

This time exhibitions theme is Entre Ciel et Terre - Between Heaven and Earth.
Les Vitraux de La Renaissance à Chartres
When: January 1 to December 31
Cost: 4€

Discover the stained glass art collections and history during Renaissance (15th - 16th century) in Chartres.
Autumn Flea Market (Les Puces d'Automne)
When: November 12-13, from 10am to 7pm
Where: Chartrexpo, Rue Jean Mermoz, 28000 Chartres
Numbers of used objects and classic arts can be found in this market. Often you would find precious things here - books, lamps, furniture and so on.
If you were a classic arts collectors perhaps you will find what you like here. Happy hunting!
French Indoors Archery Championships
When:
Saturday, November 12 from 1pm - 6pm
Sunday, November 13 from 8am - 6pm
Where:
Gymnase de la Madeleine, Rue des Eparges - 28000 Chartres
Organizer:
Archers Chartrains de l'Horizon de Beaulieu
Call: +33(0)676 98 50 20
Cost: Free
French Indoors Archery Championships - 2 X 18 meters; for juniors, seniors and veterans.
November Events 2011 at Theatre de Chartres

Theatre de Chartres
Boulevard Chasles - Chartres
Call: +33(0)237 23 45 79
Sophie Aram - Humor
When: November 3 at 8.30pm
Cost:
Adult: 22€ - children: 8€
Daphnis é Chloé - Dance
When: November 8 at 8.30pm
Dance performance by the National Choreographic Center of Grenoble with the leader Jean-Claude Gallotta.
L - Music
When: November 16 at 8.30pm
Cost:
Adult: 22€ - children: 8€
Music show from a French Star called L - Raphaëlle Lannadère, presents her new album "Initiale".
Hamlet - Theater Show
When: November 18 at 8.30pm
Cost:
Adult: 30€ - children: 14€
With Philippe Torreton, presents the famous play of William Shakespeare.
Folie - Dance
When: November 24 at 8.30pm
Cost:
Adult: 22€ - children: 8€
Dance performance from Centre Choréographique National de Nantes.
Celebrating 40 years Video Games - Exhibition
When: November 8 to December 31

Bring you to look back the history of video games during the decades. Presents the equipments and accessories, the game itself also video games icons like Super Mario, Lara Croft, Pacman and more.
Film screen for children
When: November 23 at 3.30pm
A film screen for 6 years old children or more - this time film title is Histoire Sans Fin (original title: The Never Ending Story) of Wolfgang Petersen.
This 90 minutes film show takes place at auditorium of L'Apostrophe.
Citybooks - meet Chris Van Camp
When: November 19 at 11am

Chris Van Camp is an author, columnist and playwright from Belgium. She stayed two weeks in Chartres to write a citybook about the city - 32, rue aux Juifs.
Do not miss the next meet with another artist! Learn more about Chartres on Citybooks.
50 years Amnesty International Celebration
When:
November 19 from 1.30pm to 7pm
November 20 from 10am to 7pm
Where: Collégiale St. André
Cost: free
Celebrating 50 years Amnesty International with numbers of activities like stained glass exhibition, African arts, fashion and gastronomy.
Harmony Orchestra Concert
When: November 20 at 4pm
Where: Chartres cathedral
Cost: free
Concert perfomance of l'Orchestre d'Harmonie de Chartres with Jacob de Haan as the honor guest.
When: November 27 at 5.15pm
Where: Musée des Beaux-Arts
Cost: free
Music performance of three musicians of l'Orchestre Philharmonique de la Radio with Cécile Agator on violin, Jean-Claude Auclin on cello and Frédéric Lagarde on piano.
When: Sunday, November 27
Where: All along Butte des Charbonnier to Place St. Michel
Known as La Foire de la Saint-André, a rummage sale event that take place on last Sunday of November each year.
Street vendors and exhibitors come across France to sell and expose their products like textile and garments, leathers, classic arts, tools and more.

Please note... it might be important to confirm the date and location of November events 2011 as these schedule may not reflect changes or cancellation.