Chartres Water Festival

What could be the best things to do in summer? Chartres water festival, known also as Fête de l'eau, is one of the best attraction in the city. The event take place near the water, in this case, the Eure river, mainly in basse ville.

This festival is a celebration to the main river that flows in Eure-et-Loir region. Almost 15.000 visitors come to the event to participate in this celebration. Many attractions are offered for all ages including those for children.
Reminder: Fête de l'eau 2014 will be on June 27

The attractions take place along the Eure river from La Petite Venise until somewhere around St. Andrew Collegiate church.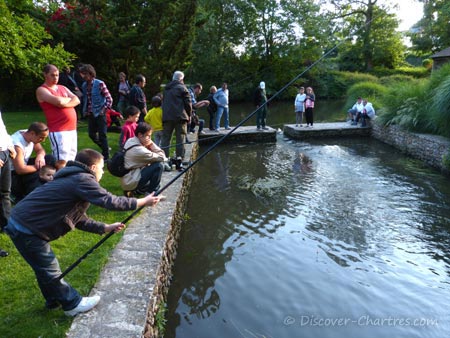 The picture above shows 'fishing trout' activity in Bords de L'Eure, meanwhile, in another part, still at the same place, people stay in crowd to enjoy music.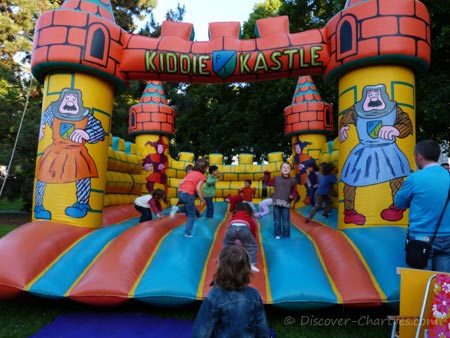 Just a few steps away from St. Pierre church are a bouncy castle and a trampoline. These two spots absolutely attract many children.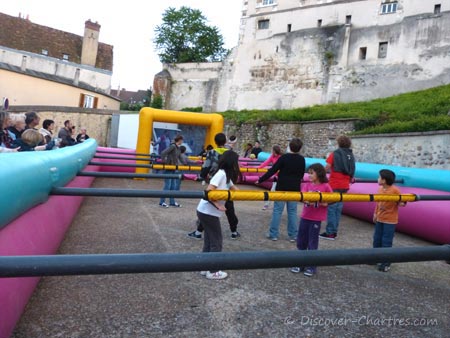 Another activity spot for children - a giant baby foot! Not suitable for young kids though... my 4 years old son couldn't help to cry as he knew that he couldn't take part in this game. Well he is too small to reach the bar! You should wait a couple of years to participate in the game, my sweet boy!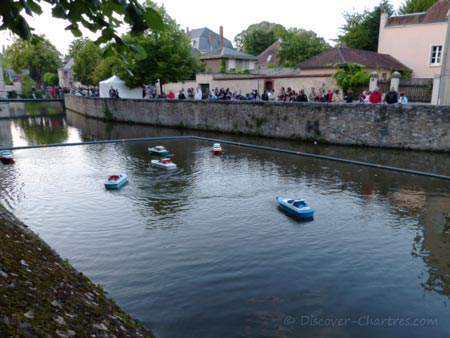 Now what are on the water? The mini boats, you should play them with remote controls.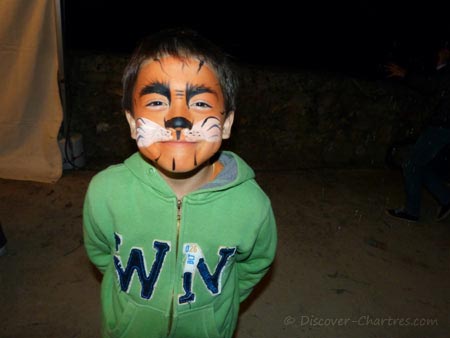 The event start from 8pm until 11.30pm so if you wish to visit more Chartres water festival attractions, you should avoid the face painting stand! I mean it... ;)

It is children and young people's favorite. Last time on our visit to fête de l'eau, we have spent almost one and half hour just to wait my children turn to get groomed.
Look at my boy with big smile on his face and say 'Look, I am a tiger!'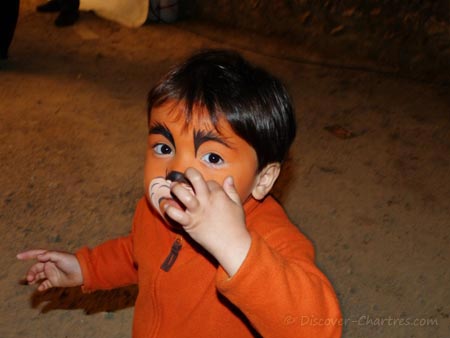 Here is his brother... also came out as a tiger! I think he looks more like Shi Fu, the master of Po in KungFu Panda movie...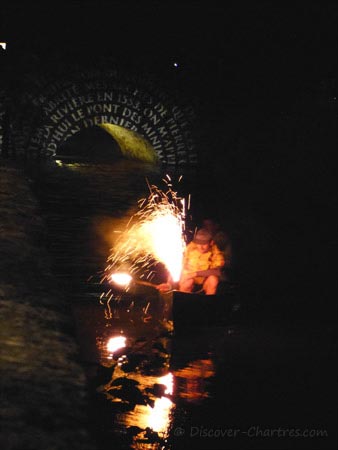 The peak moment of the event is when canoes and kayak with torches pass along the river. They depart from La Petite Venise around 10.30pm and expected to be arrived at St. Andrew Collegiate church within an hour.

You must be wondering what this guy was doing... He was pouring water to the people on the canoe/kayak! Just be aware... the canoeists will splash back the visitors with the river water! Cover well your camera!
More Pictures on Chartres Water Festival
The marching band wanders around the old city