Chartres Calendar - June Events 2011
June Events of Chartres Calendar 2011, end the spring and kick off the summer with numbers of festivals and events.
As the weather get warmer and the long summer vacation are almost arrive... everyone here start to think about what the best things to do in Chartres during vacation.
Festivals, celebration and more fun for kids and family, outdoor or indoor activities, day or night events... things are become more merrier in Chartres. Find out all in June Events 2011!
If you were here at this time, here are the schedules of some major June Events of 2011 in date order...
And before I move on... it might be important to confirm the date and location of events as these following schedule may not reflect changes or cancellation.
This June Events 2011 is in progress and still growing... please come back periodically to check out new events have been added.
Chartres en Lumières (...continued from May 21)
When:
May 21 to September 17
Where:
27 historic sites in Chartres center
Cost:
free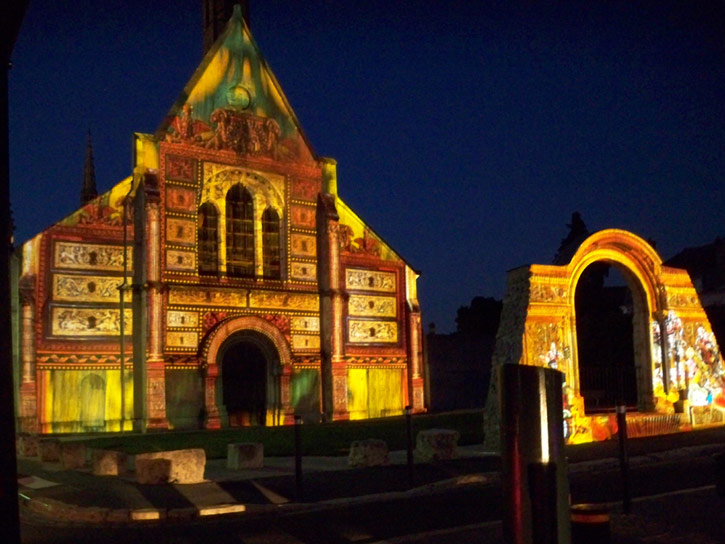 Chapelle of Sainte Foy at night
during Chartres Light Show
This year Chartres Light Show starts at the same moment with another major event, fête du parfum, with the theme Chartres en Lumières and Chartres en parfum.
The colorful and "dancing" light illuminate 27 historic sites every fallen night to 01.00 am. Each illuminated sites tells story and almost each year have new sites with new illumination. Too good to miss in June events 2011.
You could visit those illuminated places by le petit chart'train - depart from cathedral (no reservation need for individual) or else, if you wish to photograph them, a self guide could be a good option.
When:
June 21 from 6pm
Where:
on the street and some public areas in Chartres center
Cost:
free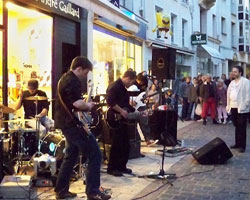 A music group performance on
Music Festivals in Chartres
This year of 2011 is the 30th edition of Music Festivals in Chartres.
Free concerts from 40 music groups in all over places in the city center.
Here are the list of music groups who will take part of the festivals.
Choose your styles and find out where and what time they will perform!
Place de Halles
• Ayango - from 7pm to 8pm
• Claire and Camille (Celtic, flamenco, classic music) - from 8pm to 9.15pm
• Turbulences (rock music) - from 9.30pm to 10.45pm
• Patricia Vita (blues, rock and jazz music) - from 11pm to 00.15am
Place Billard
• Tortem (swing, blues, bossa nova music) - from 6pm to 8pm
• Trimarrant (French rock) - from 8pm to 10pm
• Plan B (pop rock music) - from 10pm to midnight

Place des Epars
This place will turn to be a giant dance floor! Enjoy different dance styles...
• Salsaliente (salsa) - from 7.30pm to 8.30pm
• Massaro (lation, rock and tango) - from 08.30pm to 11pm
Place Marceau
• The Weedies (pop and rock music) - from 6pm to 8pm
• Les Potes Rient (percussions and guitar) - from 8pm to 10.30pm
• Yellow Stones (hard rock music) - from 10.30pm to midnight
Cathedral Royal Portal
• Liil Vreak and Co (blues, jazz, pop, RnB, soul music) - from 8pm to 10.30pm
Place Saint Aignan
• Les Herissons (pop and rock music) - from 8pm to 9pm<
• Kahuser (soul, RnB) - from 9pm to midnight
Place Drouaise
• Slogy's (rock music) - from 6pm to 8pm
• Storders (rock music) - from 8pm to 10pm
• Little Town (music) - from 10pm to midnight
When: June 24th from 8pm
Where: along the Eure river in Chartres
Cost: free
More information: www.chartrestivales.com
The Chartres Water Festival - celebration of the Eure river, the most important river for the residents of Eure et Loir.
The celebration take place surround the bridges over the Eure river, parks, parking lots and on street along the river.
Numbers of animation for kids and family such as carousel, bouncy castle, table football, canoe-kayak, music, dance and many more.
Find out the detail programs of Chartres Water Festival 2001 here.
When: June 24th from 7.30pm to midnight
Where: Cathedrale de Chartres
Cost: free
This night, Cathedral de Chartres (Nôtre Dame de Chartres) open the door and welcome visitors to take part of some activities.
Starting by free visit in French and English guides and activity for kids - Discover the cathedral, followed by more activities such as meditative choreography on the labyrinth.
The cathedral close the door at midnight by going down to the crypt with candles.
Le Dragon - Exhibition for Kids (continued until October 9)
When: November 22 - October 9
Where: Musée des Beaux Arts - see map
Kids always curious to know more about the dragon, the mysterious animal presented as a reptile.
Learn the different dragons in several continents.
Centre International du Vitrail Exhibitions in June 2011
Stained Glass Exhibition of Kim en Joong
When: January 1 to December 31 Presents stained glasses creations of Kim en Joong, an international artist from Korea. This time exhibitions theme is Entre Ciel et Terre (Between Heaven and Earth).
Ticket price 4€ (discount price 3€)
Les Vitraux de La Renaissance à Chartres
When: January 1 to December 31 Discover the stained glass art collections and history during Renaissance (15th - 16th century) in Chartres.
Ticket price 4€ (discount price 3€)