Chartres Cathedral Visit Guide
Some people ask me some questions about Chartres cathedral visit guide such as what is the cathedral opening hour, is it open on Christmas, how much the entry ticket...
If you're having the same questions, this page page is for you!

Chartres Cathedral Opening hours
The cathedral is all year open from 8.30 am to 7.30 pm.
There are some exception though, for example, in a special occasion, Les Soirées Autrement, which usually takes place from the 1st June to 29th August on every Tuesday, Friday and Sunday, the cathedral will be opened until 10.00pm.
Or in other special occasions that may occur throughout the year... so please check out first on Chartres Events Calendar or simply contact me and drop your question.
Want the quickest way? Tweet your questions using the button on the low right column!

In all case, make sure that you read first the cathedral opening hours before your visit, whether you came in group or solo (with family), are you planning a simple visit or wish to visit also the crypt and going up to the cathedral tower, with or without a guide.
The astronomical clock (1528)
Please notice... No tourist activities during the religious celebrations however the cathedral remains open on these days.
Chartres Cathedral Visit Guide Options
There are many ways to discover Chartres Cathedral. You have the possibility to do a self guide, visit with a guide, free or paying option... just choose which one suit you best.
Self Guide (Do It Yourself Guide)

The cathedral opens for public and everyone can entry to visit the building and it's free !
You can visit as an individual or with family. Perhaps you might consider to have Chartres cathedral guide book in your hand to learn each elements inside and outside of the cathedral.
This is a simple Chartres Cathedral visit guide option - but no guide, no visit to the crypt nor visit to the north tower!
In addition, of course, if you wish you may always take a little relax at Bishops Palace Garden after a whole day observing the cathedral. This garden opens all year for public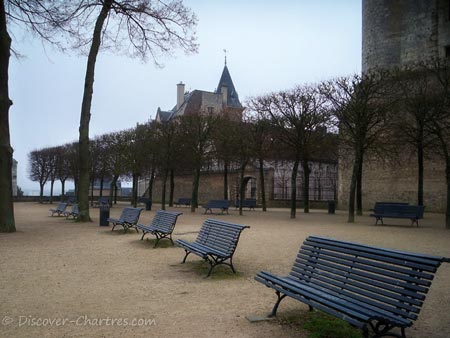 Chartres cathedral garden
Self Guide with an audio guide
An audio gadget is available at your service in several languages (French, English, Spanish, Germany) to help you do a self guide with audio guide.
You should first need to rent the equipment (a headphone like stuff) which is available in the souvenir store, inside the cathedral. If you enter the cathedral from Royal portal, you should find it on north aisle on your left side.
This service is open daily - closed on January 1 and December 25
Here are the amounts you'll need to add to your budget - according to which area you wish to visit with an audio guide.
With 4,20€, the audio guide will guide you to discover the cathedral history during 45 minutes.
If you wish to take a look only the choir fence of the cathedral, the audio guide will accompany you during 25 minutes, and this will cost you 3,20€.
You wish to visit both the cathedral and the choir fence while listening the audio guide during 70 minutes and you will be charged for 6,20€.
Visit with a guide (Official guide from the cathedral)

Not comfortable doing a self guide and prefer with one? Choose the visit with an experience guide. You will be charged 6,20€ per person.
Free for children below 10 years old.
Students and seniors (more than 60 years old) are charged for 4,20€.
However I'm not sure if it also applicable for foreign tourist.
The visiting hours for visit with a guide are available from :
The 1st April to 31st October
Time : 10.30 am (closed on Sunday and Monday) and 3 pm.
The 1st November to 31st March
Time : 2.30 pm (closed on at Christmas and New Year).
No visit during feast days.
If you need a guide tour in English then I recommend you to catch Malcolm Miller. He has been guiding and studying in the cathedral since 1958.
The French government has awarded him two highest civilian honors - Knight of the National Order of Merit and Knight of Order of Arts and Letters.
Chartres cathedral visit guide in English with Malcolm Miller usually scheduled as follow:
From Easter to end of October at noon and 2.45pm, from November until Easter at noon only, occasionally during the winter or on request - no tour if less than 8 participants. He will charge you around 10€. No reservation needed, just meet in front of the souvenir store inside the cathedral.
Possible private tour in group of maximum 15 persons by emailing millerchartres@aol.com or call +33(0)2 37 28 15 58. Price from 125€ but I heard that it can be negotiated.
No tour on Sunday and religious ceremony.
Souvenir and Book Store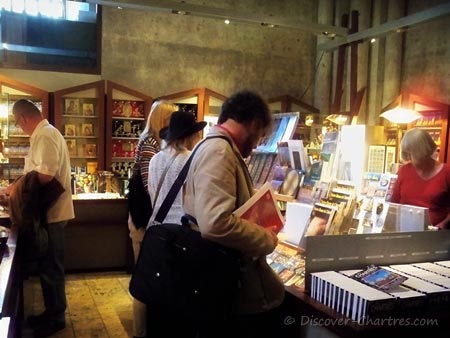 The souvenir and book store in the cathedral

The cathedral visit guide books are available in the souvenir store inside the cathedral - situated on the left side when you enter from the Royal Portal.
You can choose the cathedral visit guide book with your favorite languages - French, English, Japanese, Germany, Spanish etc...
Or else you could find the books also in Chartres Tourism Office.
It's important!
The admission fee for Chartres Cathedral Visit Guide section may not reflect all changes... so please confirm by yourself before make a visit. However I will try my very best to keep them always update.