Watching Tour de France in Chartres
Finally my dream had come true... watching the greatest tour in person! After all this time I only watch TDF live on TV. This year in 2012, Chartres hosted a prestigious stage - Individual Time Trial, the latest stage before the final in Champs Elysées, Paris.
My backpack was full! Inside were bottles of water, candies, cookies, a tube of suncream, caps. Wondering why all of that?
Well after doing some research on the net, I found out that the tour usually lasts up to 3 until 5 hours. I can stand that long without food and drink, but not my young children.

Although the refreshment stand was not far away from where we stood, still I wouldn't take a risk of loosing place or leaving the kids alone in the crowds.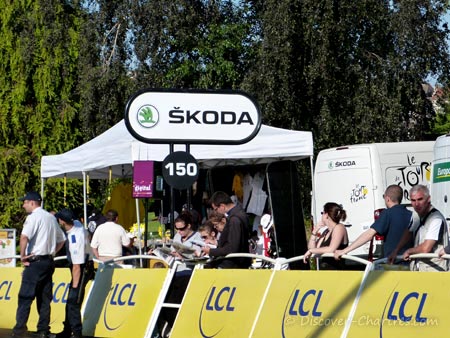 Even an official TDF souvenir stand...t-shirts, key chains, scarfs and still many more.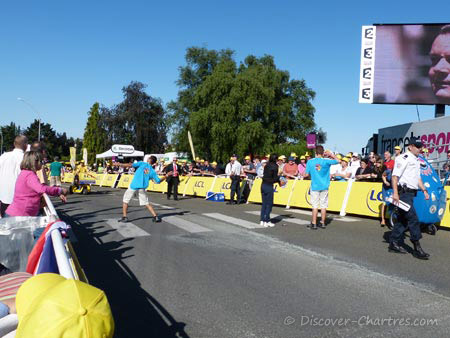 Those guys distributed goodies before the publicity caravans. Candies, caps, bottles of water... If you see public with yellow or white caps, that's where the goodies coming from.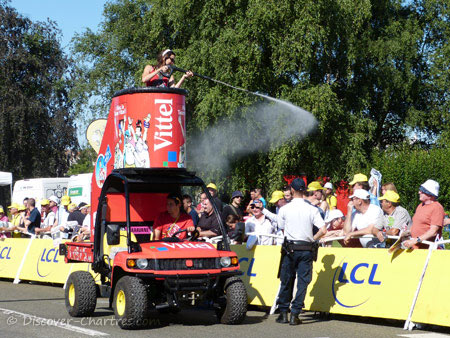 This was fun...a little shower under the sun!

First group passed before the publicity caravans. Not the racer, they are a charity group from Mécénat Chirurgie Cardiaque Association, who help and finance children from undeveloped countries who have congenital heart diseases.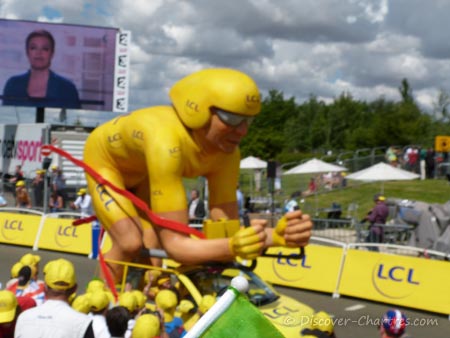 Finally the first publicity caravan arrived after almost 3 hours of waiting! It scheduled to depart from Bonneval at 9.35pm and reach Chartres within one hour.

It was a long waiting for my kids as they asked me to go home! Unfortunately they were once again disappointed... no more goodies from the caravans. Probably because we were staying too close to the finish line. A friend of mine said that they watched TDF around Place des Epars in Chartres center and got lots of souvenirs.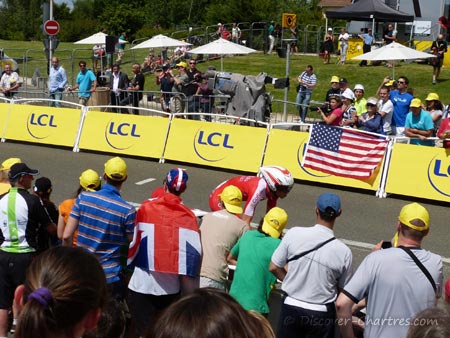 The first racer arrived after the caravans... but those heads blocked my view... errgghh!
Oh...forgot to tell that we moved to the tribune, which was a free tribune, but still you need an invitation to access to it.
The tribune was good for children, but if you want to take picture of the racer or anything happened on the street... ahhh you should forget about it. Well, at least that was what I thought that day!
After The Tour

The sun got higher and it was the lunch time. I took my children and left the tribune to buy sandwiches. I have my invitations to tribune access so I knew there were still enough seats for us on tribune when we came back.
We walked until the finish line and the podium... great surprise... all team's caravan parked just after the finish line!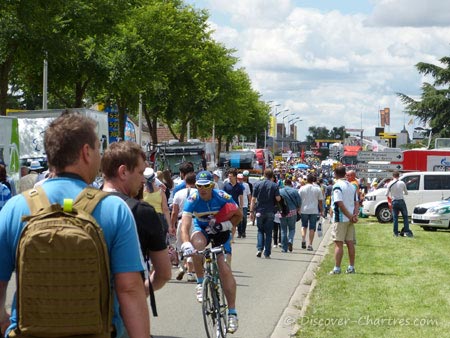 Less crowds here, you can run after your favorite racers, ask autographs even take photos with your idols.

If you are a Tour de France fan, consider visiting the "after the tour" area... there are a lot more of fun!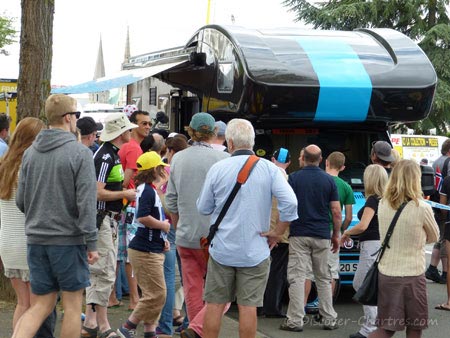 The Sky Team's caravan was the favorite, almost always crowed. No doubt, they are the leader in Tour de France 2012!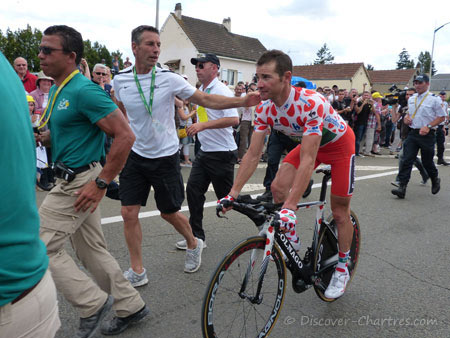 Thomas Voeckler in Polka Dot jersey, the king of mountains classification

In Individual Time Trials stage, you see the racer passes by one by one. So this is the best moment to take picture of your idols, take pictures with him or ask for autographs.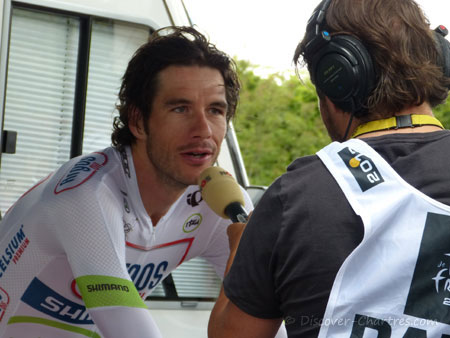 A journalist was interviewing Roy Couvers from Argos-Shimano team

If your favorite racer is among the Tour de France leaders, you have to be ready to scramble also with security polices and journalists around the world!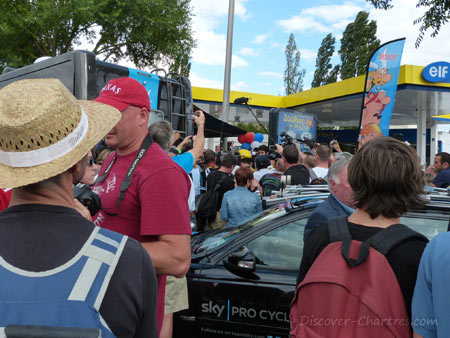 If you can see a yellow helmet on the picture above, that was Bradley Wiggins. Soon as he arrived, the crowds run after him for photos and interviews. Too bad I could not even get any closer!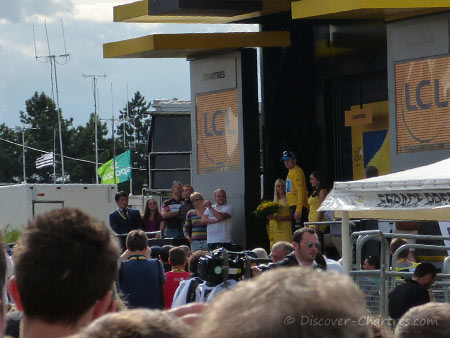 Bradley Wiggins on the podium!
He won the ITT stage of Tour de France in Chartres. As predictable, there was too much crowds near the podium. Lucky I was able to photograph him!
Although so tired of staying almost 10 hours on the street, my kids and I had an unforgettable fabulous day.
Watching Tour de France in Person or on TV?
If you ask me this question, I would say every one has his/her own preference. Someone prefers to sit down in peace and watches TDF on TV. You can see as well the beautiful France landscape where the racers cross by.
While I had enough of watching it on TV, I prefer to watch TDF in person, so if had a chance. I'd love to see the TDF stars in person, see the people or journalists from all over the world! Feeling the atmosphere, grabbing the goodies is a great fun for kids and adults as well... really unforgettable experience!
Now we're waiting for the next Tour de France in Chartres...hopefully!