Chemin de Memoire Photos




Chemin de Memoire photos are my photos collection of monuments in Chartres which lies on Chartres's Path of History.
I took all the photos when me and my kids spent our afternoon time by having a mini walking tour - tracing Path of History of Chartres.


The map of Chartres Path of History shows your location on the tour.
All what you need to do is to follow the plaques embedded on the ground in order to trace the path of history. You can do a self guide tour and if you would need a map, I have created one as seen on the lower section of this page.
See the row of round plaques embedded on ground along Boulevard de Chasles? My kids were so enthusiast to discover the next commemorative stop by following those plaques.
To complete my knowledge about the history of each monument and personage on Chartres's Path of History, I also read a book titled Chartres, le chemin de mémoire
by Nadine Berthelier which you can buy from Amazon.


In memory of Jean de Latrre de Tassigny, Anciens Combattants Indochine et Extreme Orient and Combattants Volontaires Federation Nationale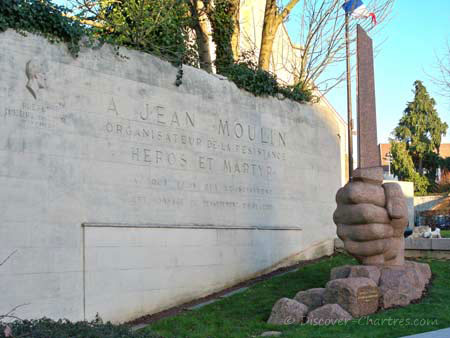 Monument of Jean Moulin - The ashes of the martyrs of concentration camps have been laid to rest under a block of pink granite at the foot of the monument.


Monument of Jean Moulin at night with three colors flag of France - blue white and red.


This plaque commemorates the members of FFI and FTP who fought to free Chartres.


Esplanade de la Resistance is where lies four monuments:
Jean Moulin monument, the commemorative plaque to FFI and FTP, General de Gaulle monument and commemorative plaque to American soldiers.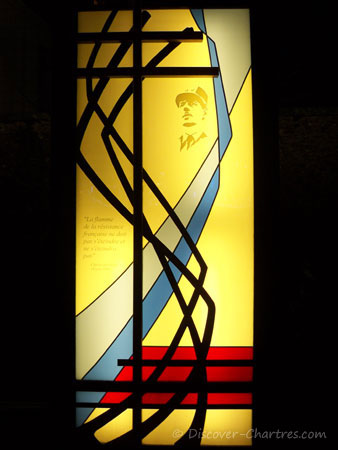 The monument in memory of General de Gaulle at night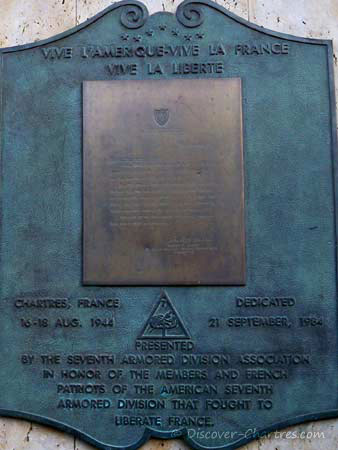 Long Live America, Long Live France, Long Live Freedom

This is a commemorative plaque in memory of the 7th Armoures Division and the US 3rd Army commanded by General Patton who took part of Chartres liberation in 1944.

In the middle of the plaque is a letter from Walton H. Walker, Major General, United States Army Commanding.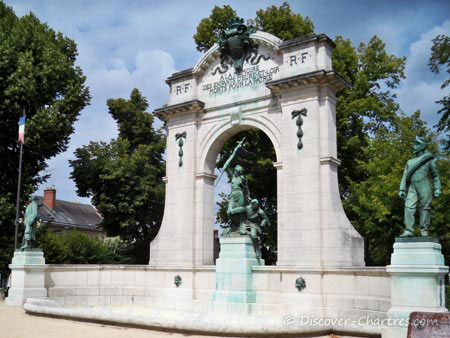 The stone and bronze memorial in memory of young soldiers of Eure-et-Loir who died during the conflict of Franco - Prussian in 1870.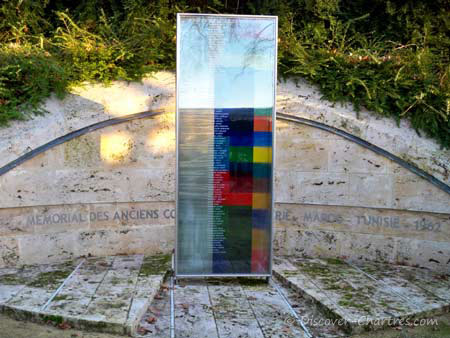 Memorial des ancients combattants d'Algerie, Marocs, Tunisie - 1962


The Great War monument - To the country's Valiant Dead


The whole view of the Great War monument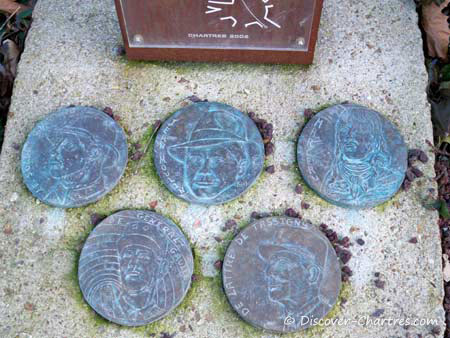 Five personages of Chartres's Path of History:
The unknown soldiers, Jean Moulin, Marceau, General de Gaulle and De Lattre de Tassigny


A tour map of Chartres Chemin de Memoire
Below is the map of Chartres Chemin de Memoire if you wish to do a self guide. If you prefer a guided tour, please contact Chartres Tourism Office.
I hope you enjoy the map and Chemin de Memoire photos collection!