Chartres Horticultural Garden
First time I read the french name - Jardin d'Horticulture, I automatically imagine of a garden where I could see and learn to plant flowers, fruits or other plants. But nop...
I was wrong! Chartres Horticultural Garden is more like a mini botanical garden or arboretum to me. There I found large numbers of green plants and trees of almost ninety species and come from different countries as well as France.
Jardin d'Horticulture is a nice place for students to learn to recognize large varieties of plants and trees here. You could discover the name of each species on a tiny board just close to the appropriate plants or trees.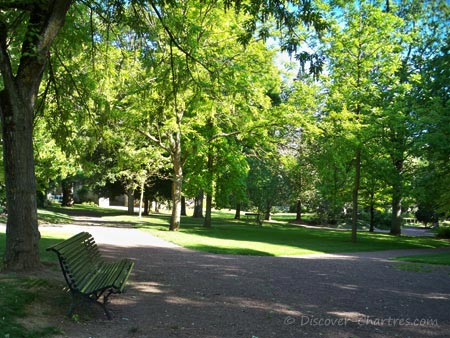 A nice and shady place to relax
So why Jardin d'Horticulture?
I have found that the name is a short say of Jardin de la Societé d'Horticulture d'Eure et Loir - which means garden of the Horticultural Society of Eure et Loir. The society has set up this garden in the middle-end of 19th century as an experimental garden.
In its history, this garden had ever suffered badly from second world war bombing however, later on, recovery actions took place after 1945.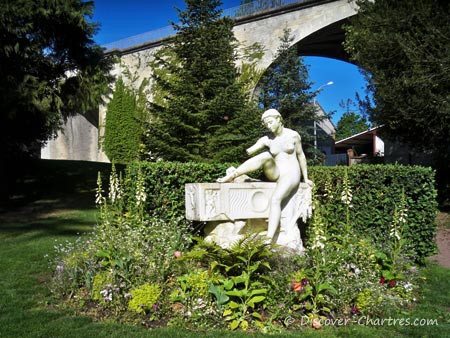 Many said this garden should be the best reference for wedding photographies
What are in there?
Jardin d'Horticulture has almost ninety species of plants and trees from Eurasia, Asia, America and Mediterranean. Some of them are rare species like Ginkgo Biloba L.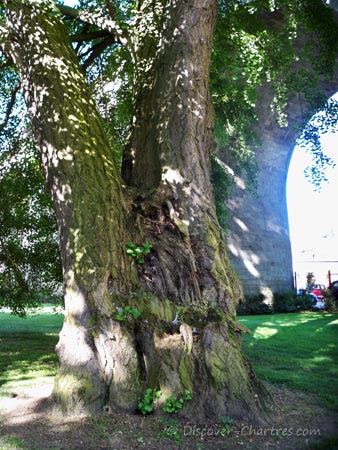 The old Ginkgo Biloba at Chartres Horticultural Garden
You could find also some species of ducks like Mandarin ducks and widgeons.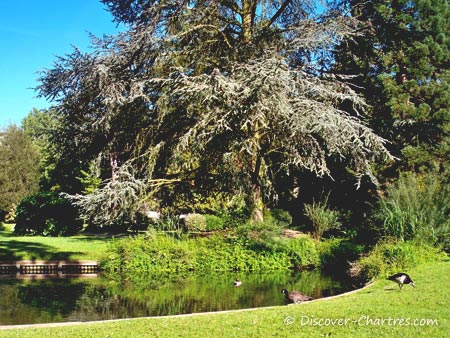 The ducks in the garden
Can you see the ducks? They run away each time I tried to get closer to take better picture of them with my only 3x zoom digital camera!
Yah I know... I should get another photo...
A playground for young children of 2 to 8 years old is also available here.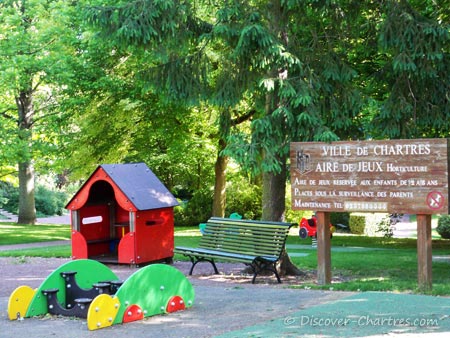 The children playground
When and how to get there?
Jardin d'Horticulture is a public garden so you can freely enter. However, please note the opening hours below:
November to February opens from 7.30am to 5.30pm
March, April, September and October opens from 7.30am to 7pm
May to August opens from 7.30 am to 9pm
All year on Saturday and Sunday always opens from 8am.
This garden is situated a bit away from the city center.
To get there from Chartres city center, you could take Filibus line 3 direction Le Mousseau.
You should take this bus from Mediatheque Apostrophe bus stop, then you should stop at Beaurepaire - the garden is exactly in front of it.
Another solution is taking Relais de Portes from Jean Moulin monument (in front of Chapel of Sainte Foy) and then stop at Porte Drouaise.
The next thing is you should walk and follow the Avenue d'Aligre, you should find the garden just before the train bridge.
If you wish to know more about Filibus and Relais des Portes, please read on Chartres Public Transports.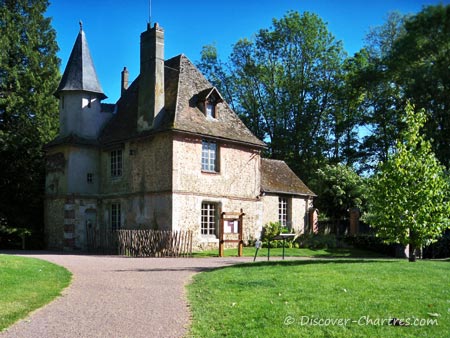 Here is Jardin d'Horticulture address:
39, Avenue d'Aligre
28000 Chartres
Call: +33 (0)2 37 21 36 98