Celebrating Bastille Day in Chartres
July 14 is the most awaited day of the month! Celebrating Bastille Day in Chartres with fireworks and free music concerts is something you should consider if you are in the city that day.
In Chartres, the celebration itself commences the day before the D-day with dancing and picnic in open air until midnight.

La Fête Nationale
The french official name of Bastille Day is La Fête Nationale - the National Celebration, celebrated in every July 14.
La Fête Nationale signify the commemoration of the storming of Bastille in 1789, which is considered as the first day of the French Revolution. It also signify the commemoration of La fête de la Fédération in 1790, which is a symbol of the unity of all French.

Since 1880, July 14 has officially set as La Fête Nationale and celebrated through out the world.

Bastille Day in Chartres

My kids and I have only started our new life in Chartres 3 years ago and this year, 2012, was our first time celebrating Bastille Day.
Unfriendly weather and 'worry about going out until late at night with young kids' have deterred me to discover the celebration.
But this year I must say - I did it!! I had a greatest night with my kids in Bastille Day!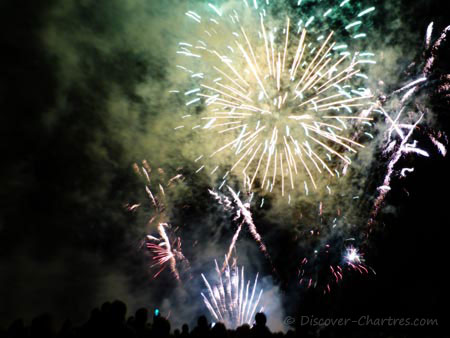 Fireworks! yep... what else...
The greatest motivation of my children to stay up till late at night!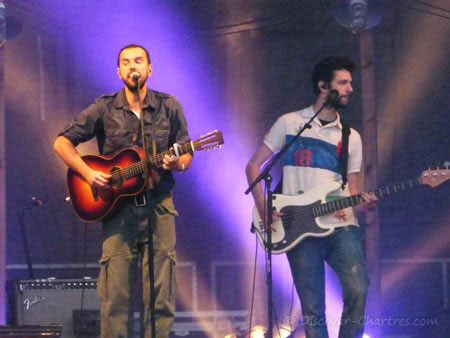 Gérald de Palmas concert and free!
This was my greatest encouragement to go out with my kids until late at night!

In Chartres, the celebration usually begins a day before in July 13 with a dance party at Place des Epars. Giant wooden games and picnic liven up the party that lasts from 5.30pm until almost midnight.

We have missed this part because of heavy rain that day - aimed for the D-day!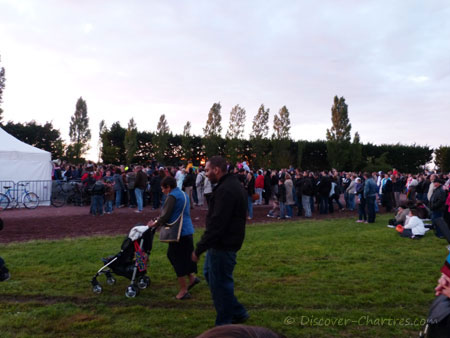 We arrived at Chartres Hippodrome around 9.30pm and I heard Gérald de Palmas, scheduled at 9.30pm, has already on stage... yay!
MO, the bordelaise band, has already performed the opening concert from 8pm to 9pm.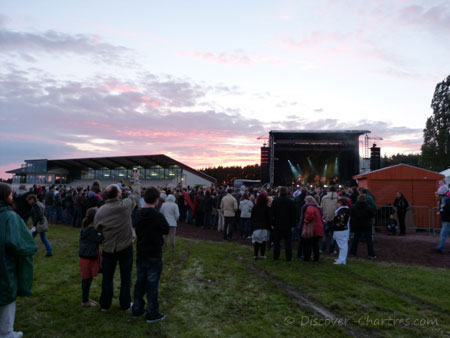 The best view we had! The heavy rain of yesterday and drizzle just before the show had given us lots of mud.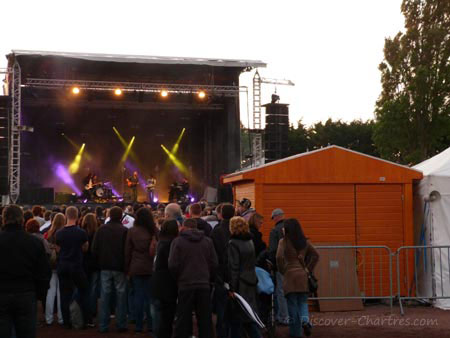 And those huts!! How could the organizer have the idea to put them just in front of the stage?
Well after all, I have to thank the city municipal of presenting the greatest concert and most important... it was free!!
Gérald de Palmas is quite a famous artist in France and one of my favorite. Guess what? This was a super celebration of Bastille Day in Chartres ever.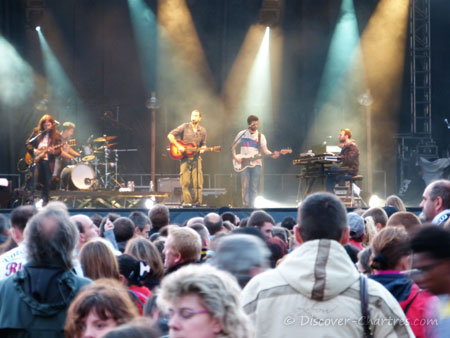 Gérald de Palmas is actually on tour throughout France this year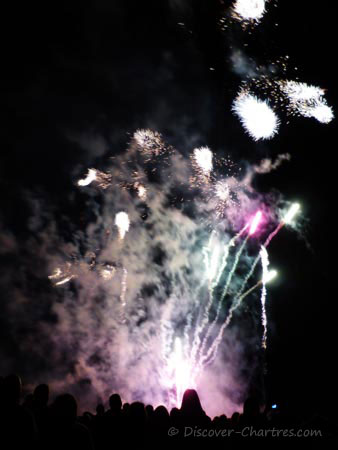 And finally the final show of the night - Fireworks!
It was my first attempts to shoot fireworks. Still have many to learn...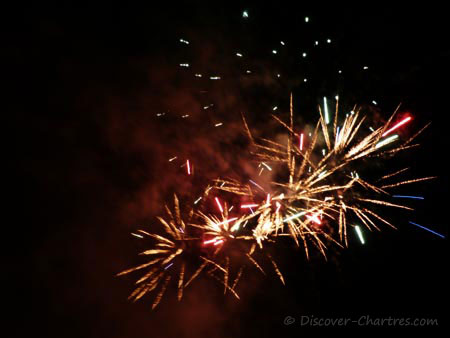 And I realized that we had been too close to the fireworks. I had to keep my head up to take pictures.

My boy cried out loud because of the fireworks popping sound! Poor boy...
Anyway... what a magnificent and wonderful night we had! Expecting to return next year!